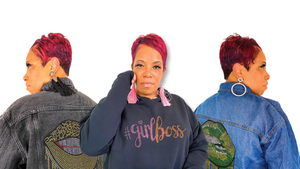 Meet Wonda Lenée
SHIMMER & CO.
I began learning how to create simple rhinestone designs during quarantine as a therapeutic intervention for my heart, soul, and mind. Now, we have become an out-of-the-box custom rhinestone apparel boutique, whose designs lift up women of color through over-the-top graphics and empowering affirmations.
Follow US ON INSTAGRAM
Looking for Custom Rhinestone Designs?
Please allow 7 days for all regular handmade items to be completed and shipped.
For custom clothing, please email info@pricelessprops.com